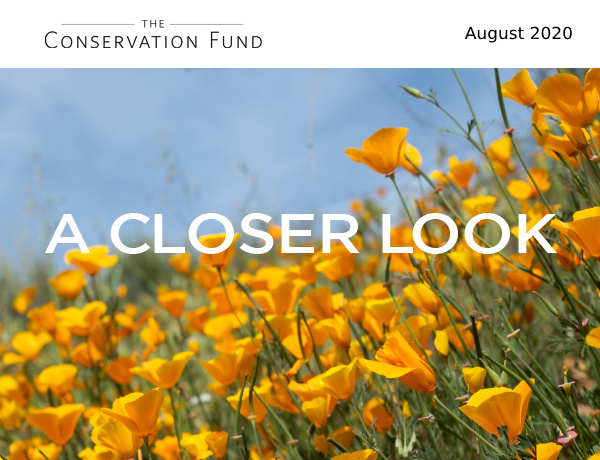 A Closer Look – August 2020
Whether you live in a rural town in the Mountain West, or a populated city on the East Coast—we are protecting nature right outside your window. We believe conservation improves the world for everyone. Take a closer look.

---

PURCHASED: One of Colorado's Largest Natural Lakes
Sweetwater Lake in northwest Colorado has been a popular destination for kayaking, fishing and hiking for decades. However, much of its waters and the land surrounding it were at risk of development. To avoid that outcome, we purchased the 488-acre Sweetwater Lake property—a huge step to ensure its future inclusion as part of the White River National Forest. Funding from the federal Land and Water Conservation Fund will enable the U.S. Forest Service to eventually purchase the property for permanent protection.

LEARN MORE!

---

Don't Blame Urban Density in a Pandemic
Contradictory to common belief, urban density may not be to blame for rapid COVID-19 outbreaks in cities like New York. By investing in urban green space and reallocating land use to people, we can improve dense urban living while retaining its economic advantages. We just have to build it that way.

READ HOW!

---

Protecting the Outdoors isn't just for People—it's also for Man's Best Friend(s)
We don't just protect land for people and wildlife. We protect it for our pets too! Pups in The Conservation Fund family love the outdoors just as much as we do. In fact, our staff and their dogs can often be spotted in some of the most beautiful and well-renowned protected lands across the country. Next time you take your pup on an outdoor adventure, remember to note that the spot you're enjoying wasn't just protected by chance. Check out our dogs' recent adventures on Facebook.

SEE THE POST!

---
Stories like these would not be possible without support from our donors. If you are inspired, please give today. Your unrestricted donation offers the greatest flexibility for conservation and makes a big impact. Thank you.








1655 N. Fort Myer Drive, Suite 1300, Arlington, Virginia 22209 | 703-525-6300
Donate | Forward to a friend | Subscribe | Unsubscribe | View Message Online
Photo Credits: Banner (Ivan LaBianca), Photo 1 (Todd Winslow Pierce), Photo 2 (Eugene Llacuna), Photo 3 (The Conservation Fund)