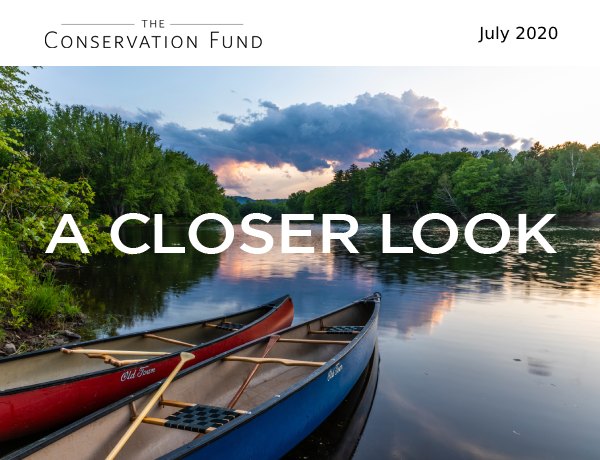 A Closer Look – July 2020
For more than 35 years, it's been our mission to protect both important natural and economic resources—and often, maybe even surprisingly, those two goals are one in the same. From helping preserve our nation's vast landscapes to supporting the small business that rely on them, we conserve critical resources in every state. Take a closer look.

---

12th Generation Forest in Maine Purchased for Conservation
Family history runs deep at the Chadbourne Tree Farm in western Maine. Passed down for 12 generations, Chadbourne is one of America's oldest and highest yielding white pine forests. To protect this working forest landscape from fragmentation and development, we purchased 15,000 acres of the Tree Farm—an effort that will advance critical watershed protection and enhance recreational access for the region.

LEARN MORE!

---

Continuing to Support Small Businesses through COVID-19
Though COVID-19 restrictions have lessened, the financial pressures on many small businesses have not. To continue supporting these institutions—which are truly the backbone of our economy—the Natural Capital Investment Fund was able to issue emergency grants to four sustainable, local businesses in North Carolina.

SEE THE GRANTEES!

---

Bipartisan Conservation Bill Makes History
Have you heard of the Land and Water Conservation Fund, often known as LWCF? This bipartisan conservation program is making headlines, as the U.S. Congress is currently advancing a bill to fully and permanently fund LWCF each year which will nearly double the nation's ability to protect and maintain public lands. Learn why LWCF is such a historic piece of legislation, and why you should celebrate its movement with us.

LEARN MORE!

---
Stories like these would not be possible without support from our donors. If you are inspired, please give today. Your unrestricted donation offers the greatest flexibility for conservation and makes a big impact. Thank you.








1655 N. Fort Myer Drive, Suite 1300, Arlington, Virginia 22209 | 703-525-6300
Donate | Forward to a friend | Subscribe | Unsubscribe | View Message Online
Photo Credits: Banner Picture (EcoPhotography) Picture 1 (EcoPhotography) Picture 2 (Ivan LaBianca) Photo 3 (Stacy Funderburke)