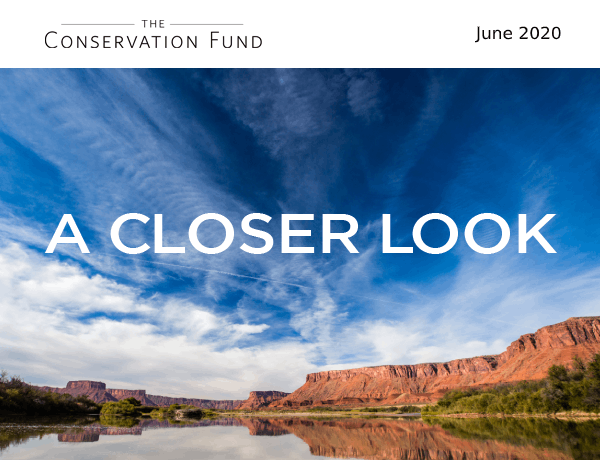 A Closer Look – June 2020
Our work at The Conservation Fund goes well beyond environmental conservation. It's about finding solutions to challenges that make both environmental and economic sense—for nature and wildlife, and for people and a more prosperous planet.

---

Small Farms, Big Impact
Nicolas Donck—owner and operator of Crystal Organic Farm in Atlanta—depended on adaptability to create a successful farm business long before the COVID-19 pandemic. Now more than ever, creative solutions are the backbone of his farm's success. We're inspired by how farmers like Nicolas are rising to the challenges of the current crisis and continuing to produce local and healthy food.

READ THE INTERVIEW

---

Getting Healthy Food to Those in Need
Thanks to our partnership with transportation company CSX, nine local organizations across the U.S. recently received Transporting Healthy Food Grants to better support their delivery of healthy, fresh food to underserved communities.

READ ABOUT THE GRANTEES

---

The Little Terrier that Could
Meet Ted. He might not look like the fastest or strongest, but at Sabine Ranch in Texas, he's a stone-cold cattle herder. Learn more about Ted's home at Sabine Ranch—a 12,356-acre working ranch that we temporarily own and manage.

LEARN MORE!

---
Stories like these would not be possible without support from our donors. If you are inspired, please give today. Your unrestricted donation offers the greatest flexibility for conservation and makes a big impact. Thank you.








1655 N. Fort Myer Drive, Suite 1300, Arlington, Virginia 22209 | 703-525-6300
Donate | Forward to a friend | Unsubscribe | View Message Online
Photo Credits: Banner Picture (Stacie Funderburke) Picture 1 (Cyrstal Organic Farm) Picture 2 (Ezra Gregg) Photo 3 (Callie Easterly)